Mission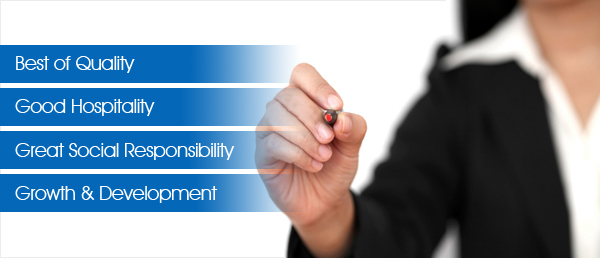 Sens Group is a corporate entity with mission of diversified growth securing the best of quality in terms of services, be it in the foreign exchange business or in the domain of hospitality.
The group strives for an impeccable trust amongst its customers and loyalists be it in the currency exchange or in rendering unparalleled hospitality service.
Good services, unmatched responses, sustainable growth and development with the company and its employees are the benchmarks of the mission of this group.
Good hospitality, lovely and awe-inspiring food and services are the passion of every employee working for Sens Hospitality Group. The group believes in story bondage with its employees thru mutual trust, affection and loyalty.
Sens Group also undertakes a great social responsibility by serving the under privileged, impoverished and malnourished section of the society thru its large scale CSR programs every month. It believes that a company should forge ahead with growth and prosperity by invoking an all inclusive sense meaning to move together with all its well wisher and the society at large.
Vision

Growth of the organization & its employee, associates thru good business practices in all phases and sustainable financial development is the key vision of the group.